Tips for book a flight tickets for your next trip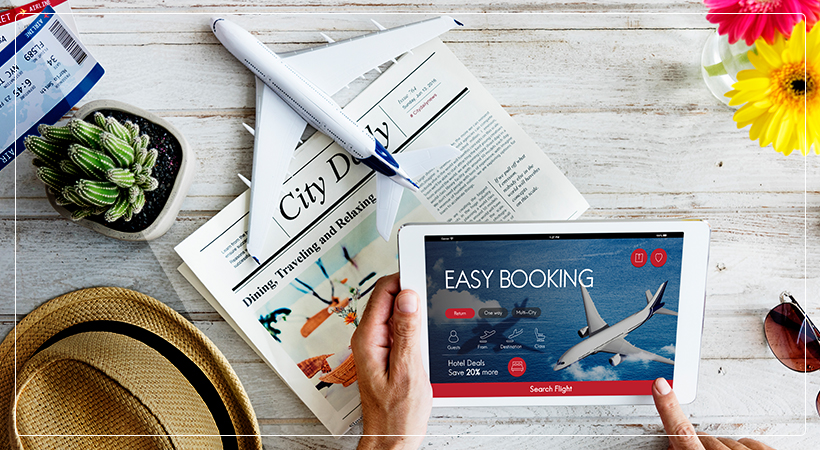 Are you planning your next trip and looking for the best way to book a flight ticket? Booking a flight can be tricky and time-consuming, but with the right tips and tricks, it doesn't have to be. In this, we will discuss some of the most important tips to consider when booking a flight ticket for your next trip. We'll cover topics such as researching flights online, comparing prices, and using loyalty programs. By following these simple steps, you can easily find the perfect ticket at an affordable price that fits within your budget.
Best 6 Tips for Book a Flight Ticket for your next trip

1. Plan Ahead and Be Flexible:
Booking a flight ticket can be a daunting task, especially when it comes to finding the best deal. To make the process easier, it is important to plan ahead and be flexible. By doing so, you can save time and money while still getting the most out of your travel experience.

By planning ahead and being flexible with your dates and times, you can compare different airline prices to find the best deal. You can also look for discounts or promotional codes that airlines offer on their websites or through social media platforms. Additionally, if you book in advance or during off-peak times, you may be able to get a cheaper flight ticket than if you book last minute.

2. Consider to Airtiks book a flight via phone
When it comes to booking flights, Airtiks is a top choice for travelers looking for affordable airfares that won't break the bank. One of the key advantages of booking flights via phone is the ability to score better deals on airfare rates. Airtiks offers a database of over 880,000 flight deals, making it possible to find flights to destinations across the globe at prices that are lower than the competition. Whether you're interested in direct flights or multi-city flights, Airtiks has you covered with their hassle-free flight reservation process that you can complete right from your phone. And with exclusive phone-only flight deals, you can rest assured that you're getting the best possible price on your air travel. So if you're looking for a reliable and affordable way to book flights over the phone, consider Airtiks for your next trip.

3. Use Comparison Websites :
Looking for the best deal on flight tickets? Comparison websites are the perfect solution. With just a few clicks, you can compare hundreds of different airlines and find the perfect ticket for your budget. These websites make it easy to compare prices, flight times, and other important details so that you can make an informed decision about which airline to book with. Plus, they often offer additional discounts or special offers that you wouldn't find elsewhere. So if you're looking for a great deal on a flight ticket, comparison websites should be your first stop!

4. Sign Up for Airline Newsletters and Alerts
Signing up for airline newsletters and alerts is a great way to get the latest information on flight tickets. With these newsletters, you can stay updated on the latest deals and discounts available, as well as any changes in flight schedules. It's also a great way to get reminders when special offers are available or when it's time to book a flight ticket. By signing up for these newsletters and alerts, you can make sure that you don't miss out on any opportunities to save money or find the best deals.

5. Check for Discounts and Coupons:
Are you looking to book a flight ticket at the best price? Discounts and coupons can help you save a lot of money. With so many online travel sites and airlines offering discounts and coupons, it can be difficult to know where to look for the best deals. Fortunately, there are tools available that can help you find the best discounts and coupons for your next flight ticket. By taking advantage of these tools, you can easily check for discounts and coupons when booking a flight ticket and save yourself some money.

6. Book Your Flight at the Right Time
Booking a flight ticket at the right time can be the difference between saving money and paying more than you have to. With the right strategies, you can get the best deals on airfare and enjoy your travels without breaking your budget.

With a little bit of research, you can find out when is the best time to book a flight ticket. Knowing which days are cheaper and which airlines offer discounts can help you save money on airfare. You can also use online tools such as price comparison websites to compare different airlines and routes and find the best deal for your travel needs.

6. Consider Connecting Flights
Are you looking for an affordable way to book a flight ticket? Consider connecting flights! Connecting flights is a great way to save money on airfare without sacrificing comfort or convenience. With connecting flights, you can fly from one destination to another with a stop in between. This makes it possible to make multiple stops on your journey at an affordable rate, allowing you to explore more places and experience more of what the world has to offer. Connecting flights also gives you the flexibility to customize your route according to your needs and preferences. So if you're looking for an economical and convenient way of traveling, consider booking a connecting flight ticket today!

Conclusion
When it comes to booking a flight for your upcoming trip, there are several important factors to consider. First and foremost, it's crucial to start booking your flight as soon as possible in order to secure the best fare. However, it's equally important to carefully consider all available airline websites and to join travel groups on social media to stay up-to-date on current discounts and deals. Additionally, considering nearby airports and being smart about booking connecting flights can help you save money without sacrificing comfort. While it may be tempting to choose the cheapest option, it's important to remember that the right flight isn't always the most affordable one. Finally, travelers should consider working with a travel agent to maximize savings and should try to book flights during weekdays when possible. By keeping these tips in mind, travelers can ensure that they secure the best possible flight deals for their upcoming adventures.
Call on (833) 902-2087 & Book a flight ticket now!